TEMPORARILY CLOSED
Are you fed up with organizing the same old plans with your friends? Would you like to experience something new and original with them? Would you like to get to know and have fun with other groups of people?
LET ROOM is the place for you!
Discover a new space that we've designed to encourage social interaction through FUN. Unleash your adrenaline after a long day working or studying, release stress, laugh, work in a team...
Come and enjoy an informal menu and a wide selection of cocktails, premium drinks and have fun competing in social games on our interactive tables. Take a trip to another dimension through virtual reality experiences and learn the basics of the most popular casino games.
LET's experience, LET's play, LET's enjoy, LET's have fun... LET ROOM!
Advantages of GMP
Join the GPM world and enjoy premium content and a range of advantages in our LET ROOM. Apply for your free card, accumulate points every time you visit us and redeem them at our restaurants.
I want to be a GPM
MULTI-TOUCH TABLES
We have 5 XTable Multi-Touch Tables that are equipped with the latest technology, connected with each other and which have a huge LED screen with state-of-the-art technology. Each table has six positions, allowing you to enjoy the experience of a shared game that is totally original.
Have fun by proving your skills in different social games (they are fun, involve multiple players and are easy to play) - Space Rescue, The zombiest, Pyramids and Crazy Kitchen - and win monthly prizes.
Learn to play American Roulette, Blackjack and Poker Stud via interactive tutorials that let you put everything you've learned in the Free To Play mode into practice.
Beat records, compete with your friends, challenge other players via chat and learn new games!
VIRTUAL REALITY
Travel to another dimension in our Virtual Reality area. Enjoy a high-performance experience with our 4 state-of-the-art VR glasses that have stand-alone operation and physical constraints, allowing you to avoid close objects. Prove your skills as an all-round sports genius playing Sports Scramble and/or clear the path to the futuristic world of Beat Saber by following the rhythm of the music.
Don't just watch games, participate in them!
FOOD AND DRINK
All the experiences we provide for you at LET ROOM start with food and/or our selection of cocktails and premium drinks. Enjoy our informal food menu with delicious sandwiches and hamburgers as the main stars or eat or drink whatever you want to enjoy a complete, fun-filled, technological experience.
You can concentrate better on a full stomach, and now you can also play better!
COMING SOON...
And in case this offer isn't good enough, keep an eye out because soon, you'll also be able to enjoy...
-More new, social games on our multi-touch tables;
-Multiple Competitions;
-iTables with a croupier, allowing you to put your poker, roulette and blackjack skills to the test.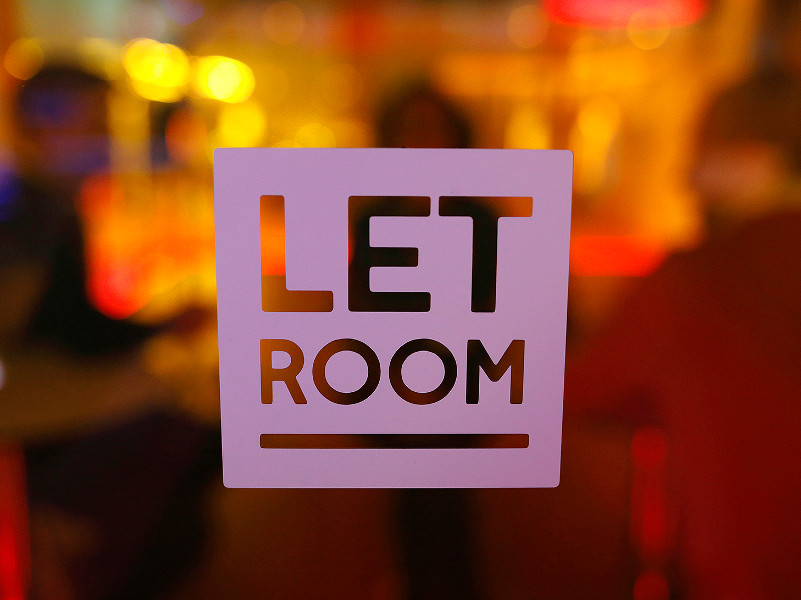 Private and Corporate Events
Are you looking for an original, fun-filled and lively event? At LET ROOM, we'll help you turn your event into a unique and unforgettable experience. Surprise your friends, family, workmates, employees, clients or whoever you want with a day full of fun, laughter, competition and teamwork.
Contact us by email or call us at +34 93 225 78 78 and experience a new idea for birthdays, team building days, presentations and private parties.
LET's experience, LET's play, LET's enjoy, LET's have fun... LET ROOM!