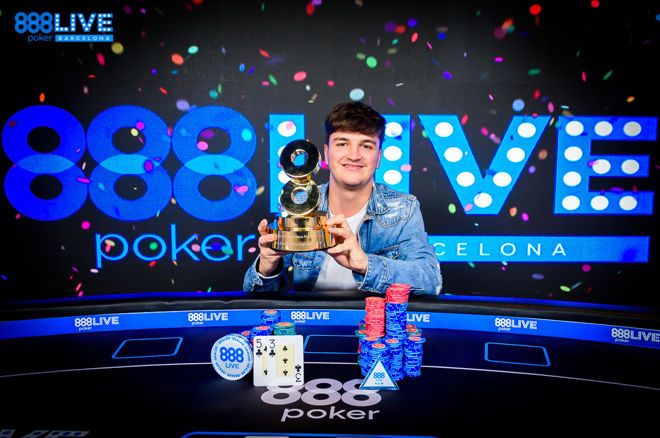 La Mesa Final del Main Event del 888poker LIVE Barcelona ha puesto el punto final a trece intensos y emocionantes días que han vuelto a llenar Casino Barcelona del mejor póker europeo y mundial alcanzando un total de 4.003 registros en los 14 eventos disputados y un prize pool global de 1.150.000€.
Este amplio field ha contado con una mezcla de jugadores locales con clasificados online venidos de otros puntos del continente, además de grandes figuras del poker internacional como Tom Bedell y Mustapha Kanit, así como los embajadores de 888poker Chris Moorman, Kara Scott, Martin Jacobson, Sofia Lovgren o Ana Márquez.
Gabriele Rossi ha sido el gran triunfador del festival al proclamarse campeón de un Main Event, de 1.100€ de buy-in, que ha registrado un total de 551 entradas. El jugador italiano dominó en todo momento la mesa final, en la que también estuvieron los españoles Ferran Corominas, jugador habitual de Casino Barcelona que terminó en cuarta posición, y Samuel Hernández, que fue séptimo. Rossi derrotó en el heads-up al holandés Cornelis de Jong para llevarse el premio en metálico, el trofeo y un paquete para disputar el ME de las WSOP en Las Vegas valorado en 11.000€.
Otros de les eventos destacados han sido el Opening Event (200€+20€), con un total de 829 registros y triunfo para Oriol Gregori, jugador habitual de Casino Barcelona, y el High Roller (2.000€ +200€), que ha sido para Jesús Cortés después de imponerse a un field total de 87 entradas.
Además, el festival ha contado también con distintos torneos paralelos (The Whale, The Breeze, The Turbo DeepStack…) con buy-ins para todos los bolsillos y premios garantizados desde los 2.500€ y hasta los 45.000€.